Podiatry Clinic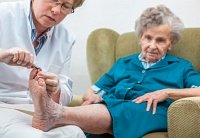 This service is provided by the special nurse for our diabeties patient only. This clinic run by a Podiatry Nurse twice a month - Tuesday am and Thursday pm by appointment only. We organise this clinic by inviting patient when they are due for their anual check.
If you have not receive invitation call yet and due then please ring the surgery to make appointment.
If you have an confirm appointment and you unable to attend then please cancel as soon as possible, so we can offer to another patient.