Child Surveillance/Baby Clinic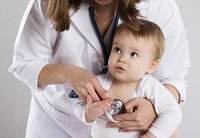 On alternate Thursday from 9:15 to 11:00 am - by appointment
All types of Child health development and immunisation service are provided (except routine weighing).
This is run by the GP and the Practice Nurse. At this clinic, babies and children receive their immunisations, growth and development checks.
To reduce mum's waiting time, we have introduced an appointment system. Invites are sent by the Immunisation team with the appointment date/ time . Please be on time and if this time is not convenient for you then ring the surgery to arrange a suitable time. The practice nurse will give you appointment card with the date and time on your 1st visit, please keep it safe and attend these appointmetns.
if some reason you can not keep then please call the surgery so we can defer the schedule.
Please remember to bring baby's red book on all visits
Please note: Health visitor will not be available in our baby clinic at the surgery. Instead they will be available at the community clinic. A list of community clinics are available from our practice nurse.
If you wish to see/speak to health visitor then please contact her on tel: 01772 777180/777477, at Saul Street clinic. You can find health visitors telephone number on the baby's red book as well. For routine weigh you can go to the any community clinic near by.